Our Specialists
The specialists of Giessen Dysplasia Centre (DZG) are all accredited members of the German Society for X-ray Diagnostics of Genetically Influenced Skeletal Diseases in Small Animals (GRSK e.V.). Our Specialists are certified for primary and secondary assessments of hip and elbow dysplasia. The DZG also offer expert assessments of x-ray images pertaining to transitional vertebrae, OCD, wedge vertebrae & other vertebral malformations as well as spondylosis.
Our team are designated experts for radiological and computed topography and can rely on their long-standing practical experience in applying these in the diagnostic of skeletal diseases.
Our Objective
Our goal is to assist all canine breed clubs and umbrella organisations who have a foremost focus on animal health. The DZG collaborates with many breed clubs who are members of the German all-breed kennel organisation, VDH, but we also provide support to clubs who are not members of the VDH.
Our Research
For many years DZG has invested in research that is relevant to genetically influenced skeletal diseases. An integral part of DZG is our own research projects which aim to inform best practices for diagnosis of genetically influenced skeletal diseases. We also provide financial support to third-party research projects via the Gesellschaft zur Förderung Kynologischer Forschung e.V. (The Society for the Advancement of Cynology Research).
The Giessen Dysplasia Centre (DZG) is an institute dedicated to diagnostic imaging of skeletal dysplasia in small animals. We provide independent expertise in the field of degenerative and dysplastic skeletal diseases, including hip dysplasia, elbow dysplasia, vertebral malformation, osteochondrosis, as well as X-ray diagnostics and CT scanning.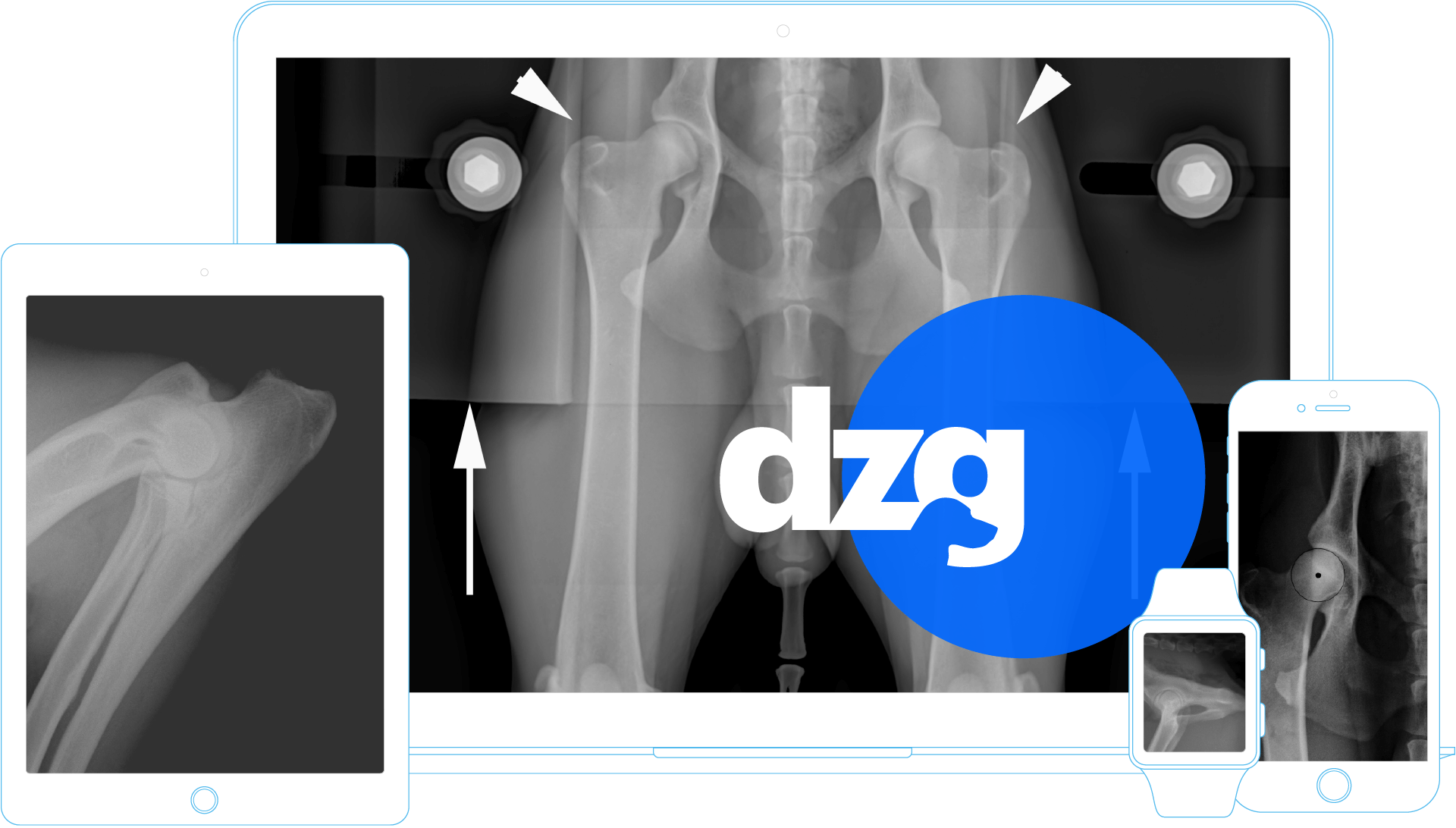 Mission Statement
Responsible dog breeding must focus on preservation of health or improvement. The selection of certain breed-specific characteristics within certain purebreed dogs has unfortunately led to specific genetical traits which imposes a risk of skeleton defects. The DZG is dedicated to improve and inform best breed practices pertaining to conformationally sound canines.
X-Ray Diagnostic and CT Scanning
Diagnostic imaging of genetically influenced skeletal disorders relies primarily on X-ray and CT scanning. Both procedures are crucial for the diagnosis of skeletal disorders.
X-ray scanning is the preferred diagnostic screening procedure as it more cost-effective and more widely implemented at veterinary clinics than CT based scanning. CT scanning is however an important tool for the examination of challenging elbow dysplastic cases.
For research purposes, procedures like magnetic resonance imaging are also used.
Skeletal Disorders
Skeletal disorders that are relevant for breeding include several genetically inherited alterations of the conformational vertebral shape of shoulder, elbow and hip joints. The skeletal structure of a shoulder may suffer from osteogenesis, also known as osteochondrosis, which is a bone formation artifact. Elbow dysplasia is a skeletal disorders of the elbow joint. It captures a diverse series of underlying genetically influenced disorders such as coronoid process disease, osteochondrosis and isolated anconeal process as well as other elbow joint incongruities.
Hip dysplasia is skeletal disorders of the hip joint. The anatomical conformation of the joint, but also laxity, plays an important role in the risk of hip dysplasia. All skeletal disorders may lead to non-inflammatory degenerative conditions as a function of aging (arthrosis) which is primarily a breakdown of cartilage which can cause pain and loss of joint mobility (lameness).
Promotion of Research
The Giessen Dysplasia Center (DZG) is deeply rooted in academical research. For many years we have been conducting projects for the research of genetical influenced skeletal diseases. A new addition is the promotion of external research projects with funds from the DZG via the Gesellschaft zur Förderung Kynologischer Forschung e.V. (Society for the Advancement of Cynological Research)